The Modern World of Neith Boyce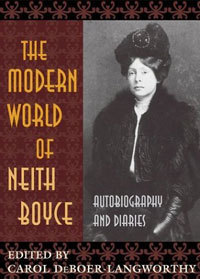 "Neith Boyce's autobiography is a lost treasure of Americana, rescued from the archives and scrupulously edited by Carol DeBoer-Langworthy. Boyce's pictures of Los Angeles as a small town and New York as a small city at the turn of the century are vivid and priceless. And the account of her struggle to live as an independent professional woman is engrossing. She was a fine professional writer--one of a number of women writing in the early twentieth century whose work deserves recognition and reexamination. This collection of her autobiographical writings is an excellent first step." -- Robert Scholes, author of The Crafty Reader and director, Modernist Journals Project, Brown University.
Comprehensive Index to "The Modern World of Neith Boyce"
This comprehensive index to the volume is much finer-grained than that at the back of the printed volume. Use it to check on pertinent persons or places. This index was compiled by Rosemary Simpson, but was too long and detailed to include in the printed volume. By downloading it, you can navigate the book in great detail.
Reviews of "The Modern World of Neith Boyce"
During her professional heyday (circa 1900-1920), Neith Boyce was a popular and prolific author of novels, short stories, plays, poems, and essays. Along with her husband, writer Hutchins Hapgood, Boyce was a founding member of the Provincetown Players and a central figure in a charmed circle of literary and artistic innovators that included Susan Glaspell, Eugene O'Neill, Gertrude Stein, Mina Loy, Mabel Dodge Luhan, Djuna Barnes, and Bernard Berensen. Personal tragedies, including marital conflict, a nervous breakdown, and the death of her oldest son in the influenza epidemic of 1918 curtailed her literary career. Boyce published nothing between 1923 and her death in 1951, and only one of her novels has been reprinted. Consequently, this modernist pioneer, whose early work critics had compared favorably to that of Edith Wharton, is virtually unknown today. A handful of critical essays and one full-length study (Ellen Kay Trimberger's Intimate Warriors, an exploration of the Boyce-Hapgood marriage) comprise the body of Boyce scholarship to date. Carol DeBoer-Langworthy's edited volume of Boyce's autobiographical writing is therefore a welcome and significant contribution.

More... (click title to see full review)
The Boston Globe
November 30, 2003
By Kate Bolick

First review: November 30, 2003

I like to think of Neith Boyce as America's first bachelor girl — a more serious, though equally independent, 19th-century Carrie Bradshaw. It's not an entirely unfair notion. In 1898 Boyce wrote a column for Vogue about her life as a single woman in New York with the sort of wit and breezy social acumen taken up by sex columnists a century later (just without the sex). But to reduce her legacy to the nine or so months of her 26th year is to overlook a long and varied career.

More... (click title to see full review)
Modernist culture manifested itself not only in literature and the arts, but in the expression of sexuality, gender roles, marital relations, and other aspects of American culture during the early twentieth century, as recent scholarship has attested. Neith Boyce (1872-1951) was an especially interesting standard-bearer of the modernist cultural impulse.

More... (click title to see full review)
The modern world of who? And why should anyone care about said world?

In her fascinating introduction to The Modern World of Neith Boyce: Autobiography and Diaries, editor Carol DeBoer-Langworthy with commendable clarity answers both questions. Enjoying critical acclaim at one time, Neith Boyce (1872-1951), named after an Egyptian goddess, published no fewer than ten books (including novels), plays, poetry, dozens of short stories, and unorthodox "articles," which DeBoer-Langworthy notes, "we now call creative nonfiction" (2). This argues for Boyce as a pioneer of the genre. The scope and volume of Boyce's literary accomplishments alone justify examination of her life and work.

More... (Click title to read full review)
Neith Boyce (Mrs. Hutchins Hapgood) was a person and an author of some renown early in the last century, but after the publication of her final novel (1923) her reputation began to fade. When she died in 1951 she was hardly known outside her family and a small circle of friends. She appeared destined to be another of many once well-known but now forgotten figures from that time, but for the work of this determined literary scholar and documentary editor. The Modern World of Neith Boyce resurrects a woman and a writer who left behind a remarkable legacy of creative and autobiographical work.

More ... (Click title to see full review)
"Not-Quite Forgotten Modernism: The Life Writing of Neith Boyce"

The activity of reading collecting, and then publishing so-called "minor genres" of writing by women, including diaries, letters and unpbulished autobiographies, is itself a feminist act that recognizes how some women's lives—and their life writing—can so easily be forgotten. ...
[Less brief description goes here]